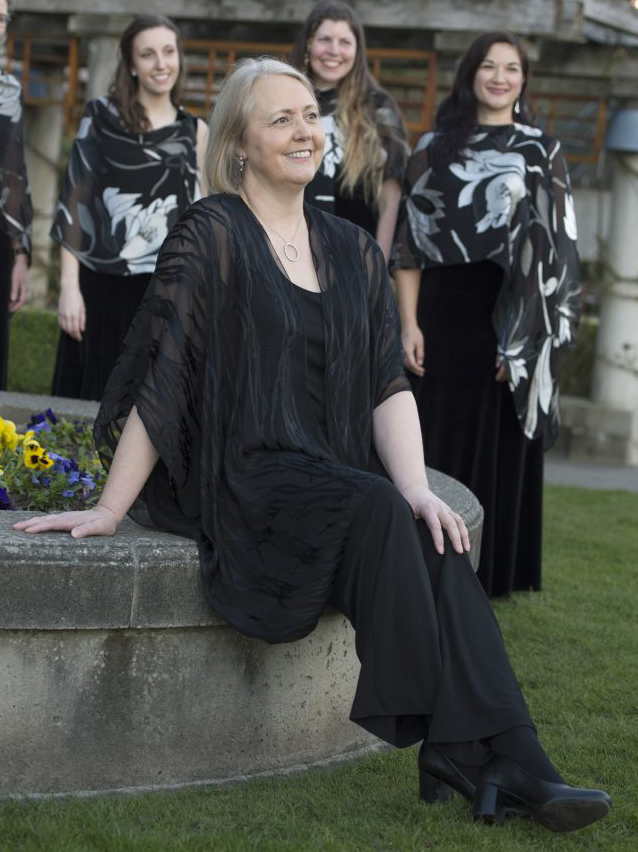 I have loved singing in harmony with people since in elementary music class.  In high school, where my teachers were Barbara Baker and parent volunteer Audrey Fricker, I got a taste for good repertoire and the thrill of putting it together. A serious flautist during those years, I was a good reader and always curious and enthusiastic. While pursuing a BMus degree from the University of British Columbia (1981) where I started as a flautist, I became deeply involved in many local choirs including the University Singers (James Fankhauser) and UBC Chamber Singers (Cortland Hultberg), the Christ Church Cathedral Choir (Patrick Wedd), the Vancouver Cantata Singers (James Fankhauser), Phoenix Chamber Choir (Cortland Hultberg), and the Vancouver Chorale (Jon Washburn). During university, I worked as an audio engineer in the School of Music's recording booth, recording student and faculty recitals.  Shortly after graduating, I began singing in the professional Vancouver Chamber Choir (Jon Washburn), where a steady stream of new repertoire built my knowledge and experience. The Chamber Choir toured across Canada, where I was fortunate to meet wonderful people who are still treasured colleagues in communities across the country.  I also sang in a madrigal quintet led by Ray Nurse.
In 1985, the Vancouver Chamber Choir hosted and performed with the Stockholm Chamber Choir and their conductor, Eric Ericson in Vancouver's Orpheum Theatre. That concert changed the course of my career, as I heard a choral sound that was uniquely rich, nuanced, natural and expressive.  The sound came from a culture where every chorister shares a common folk song tradition and choral aesthetic, not to mention a language whose vowels make for excellent vocal tone. From July 1985 to July 1986, I lived in Stockholm, earning a diploma in Choir Pedagogy at the Royal Conservatory of Music, where my teachers included Ericson as well as Anders Colldén, Stefan Schöld, Per-Gunnar Alldahl, Robert Sund, and others.  Although I was primarily a singer at that point, I had decided that I would learn the most about the Swedish choral sound if I spent my time with conductors.  The year was full of rich experiences of new music, excellent learning, and discovering how to become a conductor. I sang in the school's chamber choir conducted by Ericson, off campus in the Stockholm Bach Choir, under the direction of Anders Öhrwall, and subbed in to the Stockholm Chamber Choir for projects in Stuttgart (St. Matthew Passion) and with Ward Swingle.
On returning to Vancouver in 1986, I once again joined Jon Washburn and the Vancouver Chamber Choir, while co-directing the Collegium Musicum Vocal Ensemble at UBC with Ray Nurse. One year later, Diane Loomer and I, who had met at UBC, shared the fact that both of us had been thinking about starting a women's choir.  We decided to join forces and Elektra Women's Choir gave its first concert in October 1987.  The singers were some of the best choral sopranos and altos in town – our friends. We co-directed Elektra for 22 years, splitting the conducting and administrative duties equally and singing while the other was conducting.  We both learned so much. I left the Vancouver Chamber Choir in 1990 to earn a MMus from Western Washington University in 1991 (Robert Scandrett and Bruce Pullan), commuting daily over the border from BC to Washington because I didn't want to stop the work with Elektra.
The '90s saw me beginning to balance two career streams, as a conductor with Elektra, the Vancouver Orpheus Male Voice Choir, and the Coastal Sound Youth Choir, while simultaneously developing skills in arts administration learned from CBC Radio Producer George Laverock. I worked as Assistant to George when Vancouver hosted the World Symposium on Choral Music in 1993. Working so hard on such a massive project in the days before email, I formed friendships with choral colleagues all over the world that last until today. My two daughters were born in 1993 and 1995, and those were busy years! On the cultural administration side, I was the Executive Director of the World of Children's Choirs 2001 Festival and Symposium in Vancouver where the BC Choral Federation hosted 47 children's choirs from 17 countries for five days. Shortly thereafter, I began a decade of conducting choirs while also serving as Administrative Director of MusicFest Vancouver (originally named Festival Vancouver).  Most recently, I was the Administrative Director for World New Music Days 2017 in Vancouver, a project for the International Society of Contemporary Music, co-hosted by the Canadian League of Composers and Music on Main.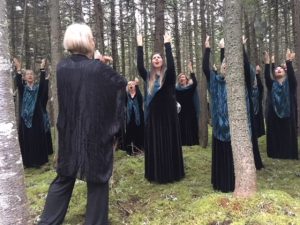 I am currently Artistic Director of two Vancouver choirs, Elektra Women's Choir and EnChor Choir.  The latter is a 60-voice, auditioned SATB ensemble for mature voices, a joyful community with a wealth of skill and passion built over a collective 2500 years of choral singing experience. In addition to these leadership roles as a musician, I serve the choral community as a Board member since 2013 of Chorus America, the advocacy, research, and leadership development organization that gives voice to the choral field.  In 2020, I joined the board of Choral Canada, an organization I am serving as President (2022-2024). At Cypress Choral Music, I curate a series of compositions and arrangements for accomplished treble choirs. I am a member of the BC Choral Federation's Willan Council, a thinktank for longstanding members of BC's choral community, and try to use my professional networks to connect people to make creative projects happen.